Message Passing Interface; MPI
A standardized and portable message-passing system
Not a new language —— Library of functions
Scales to over 100k processors
Runs on distributed memory cluster systems.
Portable
Explicit parallel programming (unlike OpenMP)
No shared variables (unlike OpenMP)
MPI's Execution model
All processors execute same program, but with difference data. (no fork & join)
Variable on each are all private.
Data that must be shared is explicitly send between processors.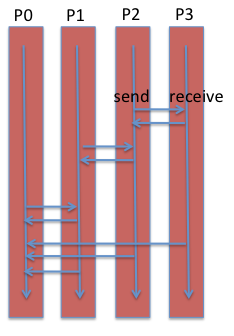 Distributed Memory Cluster

Data sent over Network:
Ethernet
InfiniBand
MPI on SMP machine

You can run MPI program on SMP (Symmetric Multiprocessing) machine.
Variables are not shared (all private).
Software Distribution
Brief Tutorials for Programming Languages
Attachments
(2)
Download all attachments as: .zip
Note:
See
TracWiki
for help on using the wiki.